Traditional Braces – Bend, OR
The Proven Way to Align Smiles
Whether your general dentist has just referred you for orthodontic treatment, or you feel you could be impacted by misalignment and crowding, investing in traditional braces in Bend can offer you countless benefits, some of which could last a lifetime. Our team at Struble Orthodontics invites you to visit us for a consultation to learn what your treatment options are and what your journey towards a straighter, healthier smile will look like. Call our office today to schedule your appointment.
Why Choose Struble Orthodontics for Traditional Braces?
Experienced & Compassionate Orthodontists
We Accept & Maximize Dental Insurance
Giving Back to Our Community Whenever We Can
How Do Traditional Braces Work?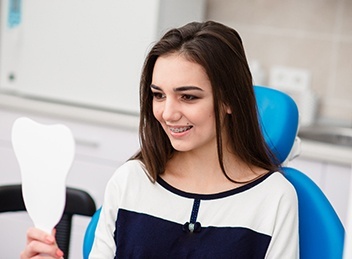 Traditional braces utilize metal brackets that are attached to each individual tooth and connected by threading an archwire between them all. The wire will be tightened, applying a gentle, yet strategic amount of pressure onto the teeth to encourage them to shift into their ideal alignment. With time, the teeth will move, and if necessary, elastics can also be used to adjust the jaw position and correct bite misalignment. The average traditional braces treatment typically takes between 12 and 24 months, depending on the severity of the orthodontic issues.
---
What Orthodontic Issues Can Braces Fix?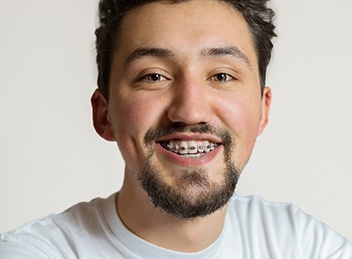 Trusted by countless patients, traditional metal braces are incredibly versatile and a popular choice among our patients at Struble Orthodontics. They can fix mild, moderate, and more severe orthodontic concerns, allowing patients to address multiple problems at a time.
Bite Misalignment
Bite misalignment, also called malocclusion, is a serious issue that can lead to other conditions if not addressed, like bruxism and TMJ disorder. Whether you suffer from an overbite, underbite, or cross bite, traditional braces can be paired with elastics to guide the jaw into its ideal alignment so you can enjoy a healthier, less-strained bite.
Crowded & Crooked Teeth
Are your teeth crowded, crooked, or overlapping? This isn't just an aesthetic issue. These orthodontic concerns can increase your risk of oral health problems like cavities by making brushing and flossing more difficult.
Gapped Teeth
Gaps between your teeth can detract from the overall appearance of your smile as well as put your teeth at a greater risk of becoming damaged. Traditional braces can help align your arch, providing your teeth with better protection.
---
Caring for Your Braces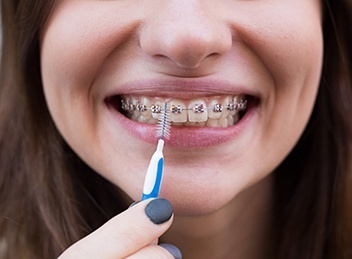 For the success of your treatment, good dental hygiene and braces maintenance are a must. There's no need to feel overwhelmed though, because our team will ensure you receive all of the education necessary to prevent cavities and other oral health concerns throughout your treatment. Here are some helpful tips to keep in mind:
Brush your teeth twice a day with fluoride toothpaste, floss at least once a day, and rinse with an ADA-approved mouthwash daily.
Avoid foods that are excessively sticky, hard, or chewy.
Stay hydrated with water and avoid sugary beverages whenever possible.
Do not chew on objects like pencils, pens, fingernails, or try to open packages with your teeth.
Visit your dentist every six months for checkups, and stay on top of your routine orthodontic check-ins.
Use a water flosser or specially designed orthodontic flossers to clean underneath your archwire.