About Our Orthodontics Office – Bend, OR
Friendly, Family-Oriented Service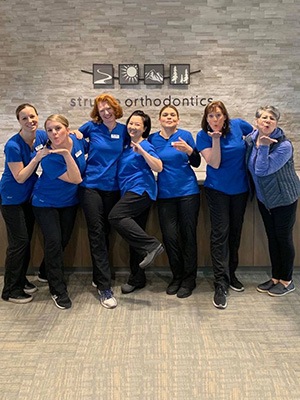 We at Struble Orthodontics treat every patient like family and welcome them by name each time they visit. We respect their time with swift appointments and attentive handling of administrative tasks. We strive to make the orthodontic experience comfortable, easy, and efficient for each and every patient.
All Ages, All Seasons
We like to make every visit to our orthodontic office a pleasant, relaxing experience. We are so proud of our beautiful, clean, comfortable Bend orthodontic office! Our orthodontic office is conveniently located just off the Parkway in the lovely Old Mill District of Bend. Patients will be able to relax in a comfortable environment while enjoying the breathtaking views from our open operatory. This orthodontic experience is one you won't want to miss!
Philanthropy
Struble Orthodontics was founded on the principle "live life with a smile." Dr. Blair Struble grew up right here in Bend, Oregon, and is very thankful for the amazing opportunity to treat patients and raise her family in her hometown community. The entire Struble Orthodontics team feels an obligation and privilege to give back to this amazing community. We show our steadfast support and commitment to child health and wellness in our community through our commitment to many non-profits and philanthropic events and organizations.
Lasting Care
We believe everyone deserves not only a beautiful smile, but also a healthy, functional bite that will last a lifetime. That's why we use only the latest technology and best techniques in orthodontic care. We shape smiles our patients can carry with pride and joy.
We also make sure those smiles stay in top condition by building strong relationships with each of our patients and staying up to date on all of their oral health needs.
Always On Call
In addition to our regular orthodontic office hours, Struble Orthodontics guarantees an on-call member of our staff will be available 24 hours a day, seven days a week, for emergency services. We are dedicated to the ease and comfort of our patients, so we do our best to keep flexible hours to fit into each patient's schedule.