Orthodontic Testimonials – Bend, OR
True Stories of Stellar Smiles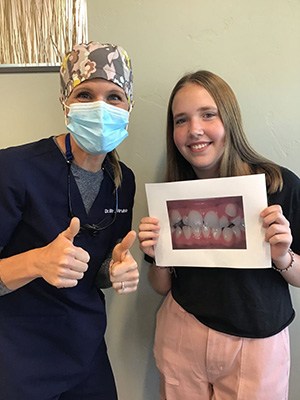 If you'd like to share some kind words and smiles, please ask our front desk staff for a comment card at your next appointment. We'd love to hear about your experience!
When your treatment is complete, you will have the smile you've always dreamed of and the confidence to show it off! We also want you to feel comfortable and confident throughout your entire orthodontic experience, and our orthodontic office is dedicated to making sure that you receive the quality care you deserve.
How Orthodontic Treatment Works
Orthodontic appliances are made of metal, ceramic, or plastic. They may be removable or they may be brackets bonded to the teeth. By placing a constant, gentle force in a carefully controlled direction, braces slowly move teeth to the proper position.
Gone are the days when a metal band with a bracket was placed around each tooth. You can now choose clear or metal brackets and, in some cases, the color of your appliance. Wires are far less noticeable, and the latest materials are designed to move teeth faster with more comfort. Today, any age is a great age to wear braces!
Duration of Treatment
Treatment time varies and can last between one and three years, depending on several factors including age, treatment method, and how minor or severe your case is. A big factor in a successful treatment is you! The more involved and diligent you are, the more efficient your treatment will be. For children, receiving interceptive or early treatment can also help provide a quicker treatment time.
Before beginning your orthodontic care, your doctor will discuss all of your options and provide an estimate for how long your full treatment may take. Please contact our orthodontic office to schedule an appointment and learn more about orthodontics and the treatments we provide.
"At 75 years of age, I never thought I could have a nice smile again. My teeth had shifted so much something had to be done. At Struble Orthodontics I found the answer. Everyone was very pleasant and professional. They explained the whole process very clearly. It has been an excellent experience with great results."
Judy
"An excellent rating does not go far enough to express how awesome Dr. Struble has been. As a busy college senior, she has repeatedly worked with my schedule to make sure all my needs were met. I had met with other orthodontists in Bend in the past, and experienced a lack of patient care. I was only willing to work with Dr. Struble. She is an incredible orthodontist and person, and I highly recommend her practice to ANYONE who needs orthodontic care."
Zach Reynolds
"I recommend Dr. Struble without any hesitation. Her expertise coupled with a wonderful 'bedside' manner immediately put me at ease. She is thorough and demonstrates a level of attention to detail you wish for in an orthodontist. The staff is friendly, competent, and professional. I appreciate the ease of making appointments and love the environment of the office."
Anonymous
"Dr. Struble is a rock star! Thank you for the exceptional care and for always going the extra mile for your patients. I appreciate you and your amazing staff! Your new office is beautiful, congratulations!"
Cynthia Brandt
"What a great experience we had at Struble Orthodontics. Dr. Struble is honest, professional, and fantastic with children and families. I highly recommend Struble Orthodontics!"
Caroline Skidmore
"As a dentist, I highly recommend Struble Orthodontics not only for my patients but for my family members too. Dr. Struble's superb training in orthodontics is reflected in her outstanding care. Her kindness and caring is evident for all her patients. For so many reasons, Struble Orthodontics is an excellent choice for your orthodontic treatment!" — Dr. Jill Schroeder, dentist and "Mom"
"I love coming to Dr. Struble's office because they are always so nice and friendly! I couldn't wait to have my braces and now I have them. I don't want them off because I want to keep coming here!"
Gianna
"Dr. Blair and her staff rock! This is such a wonderful place. My boys love going to see her!"
Cathy
"Dr. Struble is a bright, highly skilled, and educated orthodontist ... AND she is a fabulous and caring person. We met her as a volleyball coach and were thrilled to find that she has a practice in town. All-around fabulous!"
Lisa