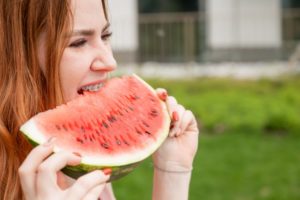 The days are getting longer, the sun is shining brighter, and the weather is heating up. That can only mean one thing – summer is officially here! If you're like most people, you're looking forward to enjoying some of your favorite seasonal treats. However, if you have braces, you already know that you need to be careful around certain foods. While you can still dig into plenty of warm-weather items, there are others that you should avoid. Keep reading to learn which summer foods you should (and shouldn't) eat with braces!
When You Have Braces, Eat This…
Despite the dietary restrictions that come with braces, you can still treat yourself to a number of mouth-watering summer delights, including:
Fruit smoothies
Ice cream
Popsicles and fudgesicles
Soft pasta like macaroni and cheese
Baked beans
Mashed potatoes
Watermelon
Soft-baked cookies and pastries
Cooked or grilled veggies
… Not That!
To avoid breaking a bracket or wire, there are a few popular summer staples that you should stay away from. Otherwise, you could complicate your treatment and end up waiting even longer until your braces come off! This summer, avoid these foods:
Meat on the Bone
You can't have a summer barbecue without some classic meat dishes! With that being said, you should exercise caution with chewy or stringy meats, such as jerky, pork ribs, and chicken wings. If you simply can't resist these meats, at least cut them off of the bone before chowing down. That way, you lower the risk of the bone damaging your braces.
Crunchy Grains
Most grains shouldn't post a problem to your braces, but particularly hard or crusty breads could cause damage. Warming up your biscuits or rolls for a few seconds could soften them up and decrease the risk. Additionally, try not to eat grains that contain nuts or seeds, as they could get trapped in hard-to-clean areas of your braces.
Raw Fruits and Vegetables
Even though fruits and vegetables are essential for great oral and overall health, biting directly into a carrot or apple isn't exactly great for your braces. The best way to enjoy these nutritious and delicious foods would be to cook them first so that they're nice and soft.
As long as you're careful about the foods you eat this summer, your orthodontic treatment should proceed without a hitch. You should have a straighter smile before you know it!
About the Author
Dr. Blair Struble obtained her Doctor of Dental Medicine degree from the Oregon Health & Science University before earning her Master of Science in dentistry and certification in orthodontics at the University of Washington. Today, she provides orthodontic care for all ages at Struble Orthodontics with locations in Bend, OR and Redmond, OR. She'd love to guide you on what to eat while you're straightening your teeth with braces, and you can contact her office by visiting her website.