---
Welcome to Struble Orthodontics!
We want to thank you for selecting our practice for your orthodontic treatment. This will be your orthodontic "home" for the next several months/years and we want you to make yourself comfortable and enjoy your time here. It is our hope that you look forward to your time spent with us. We can't wait to get started and know there will be a beautiful smile awaiting you at the end of this journey! Below you will find all the information and videos that will guide you through making appointments, eating guides, emergencies and more.
Just click on each link below for more information:
What Sets Us Apart-Our Mission Statement
Get Acquainted with Orthodontic "Lingo"
Managing your Appointments
What to Expect During your Appointments
Eating Guide – "Do's and Dont's"
Brushing and Flossing – Your Commitment to Oral Care at Home
Orthodontic Emergencies – Handling Emergencies Appropriately
Retainers – Maintaining Your New Smile
Watch all of the instructional videos
---
Mission Statement/Vision:
At Struble Orthodontics, we are committed to providing individual attention and exceptional orthodontic care in a comforting, compassionate environment for people of all ages. We will treat you like family by respecting your time, concerns and apprehensions while we exceed all your expectations. You will leave with a new smile and a lifetime of improved dental health and function.
---
Orthodontic "Lingo": the words you'll want to know
Orthodontic Records: These are the materials we will be collecting in order to properly diagnose your orthodontic problems to ensure we have an appropriate treatment plan that will address your individual orthodontic needs. These initial records usually consist of orthodontic models, or digital models, digital photographs, digital radiographs and a thorough clinical examination.
3D Scan and Digital Models: Remember those messy alginate impressions that were routine and common in orthodontic offices? You may remember your parents complaining about them when they reminisce about their orthodontic experience! Our office has made a technology upgrade and we now have three iTero digital scanners! This allows us to generate digital treatment study models for our patients so that we can accurately track progress in a more comfortable, convenient way. Now that's a win for everyone!
Impressions: We will occasionally use a soft rubbery material called alginate to take impressions or molds of your teeth. These impressions allow us to create and construct orthodontic retainers and appliances. Fortunately, digital scanning technology in our high-tech practice now typically allows us to avoid these routine impressions.
Panoramic Radiograph: This is a type of x-ray that we use to evaluate dental development, tooth eruption and jaw anatomy. This x-ray is different than the x-rays your dentist usually takes to check for cavities.
Separators: Sometimes we may need to use small separators or "spacers" to make room between your teeth for the placement of bands. These separators may make your teeth a bit sore. We usually keep these separators in your mouth for approximately a week and ask that you not floss in these areas to avoid dislodging these separators.
Bands: These are thin metal rings that we may place around your back molar teeth. We use these from time to time with your braces or to attach permanent retainers and other appliances.
Brackets: AKA Braces, these are the small metal or ceramic attachments we place on your teeth through a process known as "bonding". These are the "handles" we use to move and straighten your teeth. We use a special type of "self-ligating" bracket because we find greater comfort, faster tooth movement and excellent esthetics with these technologically advanced brackets.
Arch Wire: The arch wire is actually what allows us to move your teeth. Arch wires come in many different sizes, shapes, and materials. We will be changing your arch wires frequently during the first portion of your treatment.
Elastic Chain: These are available in many colors and are used to gently close spaces between your teeth by attaching around your brackets.
Steel ties: These are sometimes used to securely fasten your arch wire to the bracket. Sometimes during brushing or eating these ties can come loose or move. Please see the Orthodontic Emergencies for ideas on how to handle this situation.
Elastic ties: These also come in many colors and are sometimes used with our conventional brackets to secure the arch wire to the bracket.
Retainer: Retainers are used for several different reasons during and after orthodontic treatment. They come in many different colors and types. They can sometimes be used to make small movements to your teeth but are usually used to maintain your beautiful result after orthodontic treatment. We will sometimes use "fixed" retainers that remain attached to your teeth. Alternatively, "removable" retainers can be taken out so it is your responsibility to make sure these are worn as instructed for best results.
Elastics: You may be asked to wear these "rubber bands" to aid us in perfecting your bite or the way your teeth fit together. When worn as asked, these help to complete your treatment and accelerate treatment progress.
---
Managing your Appointments
Please help us stay on track with your treatment by maintaining your appointments. This will help us complete your treatment in a timely manner. We also ask that you be on time for your appointments. Respecting your time is a big priority for us! We will make every effort to be ready for you at your appointment time and want to make your treatment as timely as possible.
While we always strive to accommodate scheduling needs and desires of our patient families, we want our patients to be aware that it is not always possible to schedule routine appointments outside of school, work or extra-curricular activity times.
---
What to Expect During your Appointments
Your "Start" Appointment: You will be getting your orthodontic braces or appliances! This is a very exciting appointment as it marks the beginning of your active treatment. . . . those pearly whites are starting to move today!
This will be one of your longer appointments with us. Depending on your specific treatment plan and orthodontic needs, this appointment may last approximately 1-1.5 hours.
Your braces and any other appliances will be placed on your teeth at this appointment and thorough care and cleaning instructions will be provided. We will make sure you have all the necessary tools to keep those teeth as clean as possible for us during your treatment. We will rely on you to help us by making sure you are doing your best to follow our recommendations. Excellent treatment results simply cannot be achieved without your cooperation!
You may experience some soreness and tenderness over the next several days after you get your orthodontic appliances placed. Usually, this period of soreness lasts approximately 3-5 days and then subsides. We recommend using an over-the-counter medication like Tylenol during this period to help relieve any significant discomfort. Be sure to follow package instructions for proper dosing.
Routine Visits: Now that you have your braces on and movement has begun, we will have you come in for new arch wires, check your oral hygiene, replace chains and secure brackets. These appointments are the stepping stones required to ensure your treatment is on track. They are usually scheduled every 6-10 weeks depending on your treatment plan and orthodontic needs.
Progress Records: Now that we've got those teeth moving in the right direction, it may be necessary for us to periodically obtain progress records to document and evaluate your progress. These records will include digital photographs and occasionally digital radiographs to evaluate tooth position and eruption. Patient health and safety is a primary concern for us here at Struble Orthodontics. We thoroughly evaluate the need for these progress records and make every effort to keep radiation exposure to a minimum for our patients by using digital radiographs. We will only take these x-rays when absolutely necessary for the health of our patients and to achieve the best possible orthodontic result.
Removing Your Braces: This is an incredibly exciting day in your orthodontic journey and today we get to share in your success! This appointment will take approximately 1-1.5 hours but removing the brackets actually only takes approximately a minute! Now that you have your beautiful new smile, it's time to make sure we maintain this result by wearing retainers exactly as instructed. We use a variety of retainers catered to meet your specific retention needs and will make sure you receive proper wear and care instructions when you receive your retainers. We will deliver your retainers as soon as possible so we ask that you return to our office within a couple days (usually the same day) to make sure your new retainers fit properly. It's time to enjoy that new smile and be able to eat all the things you've had to avoid during your treatment. . . . enjoy, and congratulations from all of us at Struble Orthodontics!
Retainer Visits: Even though you've reached a milestone in your treatment, we still ask that you continue to see us for several visits. We call this your retention phase. These visits allow us to monitor your stability and ensure that your retainers or appliances are fitting properly. Everyone's treatment and stability are different so this period is vital to make sure that your orthodontic investment is a lasting one. We want that brand new smile and healthy bite to last a lifetime!
---
Eating Guide: The Do's and the Dont's
Orthodontic appliances do require you to be careful with the types of foods you are able to consume without causing problems or prolonging your treatment. If you're careful, you can continue to enjoy most of the same foods you're used to but below we've listed several groups we ask that you try to avoid:
Hard/Crunchy Foods: These can damage wires and even loosen brackets. This can delay or prolong your treatment if this becomes a recurrent problem. Exercise caution and use common sense with these foods, you can usually eat hard foods if cut into small enough pieces and are careful when eating. If you do happen to break a bracket or damage some piece of your braces, please call our office (541) 848-6642 ahead of time so that we may prepare for this and fix this problem promptly for you.
Sticky Foods: Sticky foods can also cause damage to your appliances. If these sticky foods are high in sugar content, they can cause cavities or gum inflammation because they are hard to clean from around your appliances.
Sugary Foods and Drinks: Foods and drinks that are high in sugar content should be avoided during orthodontic treatment whenever possible. If you do occasionally enjoy a sugary snack, we ask that you brush and clean your teeth around your braces as soon as possible. If you do not have access to a toothbrush, it is best to rinse well with water.
Below is a list of food examples we ask that you avoid:
Taffy
Caramel
Candy Bars
Bubble Gum
Lollipops
Hard Candy (i.e. Jolly Ranchers)
Popcorn
Ice
And here are a few that can be enjoyed with caution:
Carrots (if cut into small pieces)
Apples (if cut into small pieces)
Corn on the Cob (if removed from the cob)
Hard Bread (if cut into small pieces)
Steak (carefully!)
---
Brushing and Flossing
It is very important that you develop a routine for caring for your teeth during your orthodontic treatment. Having braces absolutely makes it harder to clean your teeth and gums. One of the most commonly missed areas is the space between your brace and the gums. It is very important to spend some time on this area when brushing your teeth.
We will give you specific instructions for caring for your teeth and braces but it is your responsibility to take the time and use the tools we give you appropriately. Failure to care for your appliances and your teeth can result in cavities, scarring of your tooth enamel and swelling of your gums. This swelling can be quite uncomfortable, and can actually slow down tooth movement! Check out these instructional videos with instructions for brushing and flossing with braces.
How to Brush with Braces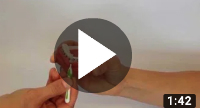 How to Floss with Braces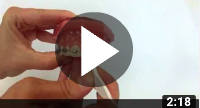 Our doctors strongly recommend the use of an electric toothbrush during active orthodontic treatment. If you do not already use an electric toothbrush, we will provide you with a high-quality GOBY toothbrush as our GIFT TO YOU! And we'll even pay for your first brush head replacement! You can then subscribe to have your GOBY replacement brush heads mailed right to you. Replacement brush heads are very affordable, shipping is free and you can cancel your subscription anytime!
Flossing is also a very important part of caring for your mouth. We realize flossing with braces can be a difficult and time-consuming task but it is very important for a healthy mouth. We will provide you with flossing tools to make this process easier. Please let us know if you are having problems or need help with flossing!
If oral care becomes a significant concern, our doctors may recommend removal of braces. We want you to receive a beautiful smile, but our primary concern is the health and well-being of your mouth and teeth.
---
Orthodontic Emergencies
We will always have one of our clinicians available over the phone to answer your questions and tend to your orthodontic related problems or emergencies. Simply call the office at 541-848-6642 (Bend office), 541-527-4325 (Redmond office) and follow the prompts to leave an emergency message for our team so that we may return your call shortly (typically within 1 hour). We also have informational videos that will be reviewed in office at the start of your treatment. These videos can also be accessed at our YouTube channel. In many cases, this information will help you manage your own orthodontic problems and answer your questions quickly and efficiently. Here are a few recommended solutions to common orthodontic emergencies:
Broken/Loose Bracket: Use clear wax to make yourself comfortable (most often broken brackets do not cause any discomfort) and call our office on the next business day to schedule an appointment for a repair. If you are not in pain, broken brackets do not always need to be replaced immediately but we do appreciate you letting us know so we can properly appoint you for a repair appointment or be prepared to repair the broken bracket at your next regularly scheduled appointment.
Wire Poke: These can sometimes be incredibly irritating and uncomfortable. Once again, try to use clear wax to make yourself comfortable. If successful, call our office on the next business day to make an appointment for repair. If you are unable to make yourself comfortable with wax, before we are open, call our office to leave an emergency message on the emergency line. Sometimes it is possible to use a pencil eraser to push a pokey tie-wire back into a comfortable place.
Loose Band or Appliance: Often times these don't create true emergencies but should be addressed by someone in our office within the next several days. Call our office on the next business day to arrange a time for a replacement. If you are uncomfortable, call our office immediately and leave an emergency message for our team.
Discomfort/Soreness after Appointments: Most people do experience some level of discomfort or soreness after their orthodontic appointments. Fortunately, this feeling usually lasts approximately 3-5 days. When you initially get your braces, your cheeks and gums must also get used to your new braces. Sometimes you may develop small sores as you get used to the new appliances. Feel free to use the clear wax we provide to cover any sore spots. After time, your soft tissues will get used to having the braces and the soreness will subside.
Traumatic Accidents Involving your Teeth: If you have a serious accident involving your mouth or teeth, please call our office to leave an emergency message. If we are out of the office and you must be seen immediately, you may also call your dentist or the Emergency Room for an emergency evaluation.
We will make every effort to handle your orthodontic emergencies and concerns promptly. Your emergency message will be forwarded directly to one of our dedicated team members or doctors and we will return your call as soon as possible when the office is not open. Our Office Phone number is 541-848-6642 (Bend office), 541-527-4325 (Redmond office). Follow the prompts to leave an emergency message.
---
Retainers – Maintaining Your New Smile
Retainers are a very important part of the orthodontic process. Once the hard work of tooth movement is complete, retainers must become a part of your daily routine in order to maintain your beautiful new smile.
Some retainers are "fixed" or permanently attached to your teeth. Some retainers are "removable" and must be taken out daily for cleaning and then replaced. Whether "fixed" or "removable", all retainers require some work on your part for proper care.
We will provide you with thorough instructions related to wear and caring for your retainers. If ever in doubt, please call our office with questions regarding your retainers 541-848-6642 (Bend office), 541-527-4325 (Redmond office).
In our office, we believe in lifetime retention. This means that you will be keeping your retainer for the remainder of your life. It is never a good idea to get rid of your retainer unless advised by your orthodontist. Keeping your retainer is the best check to make sure your orthodontic result is remaining stable. We may ask you to wear your retainer full time when your braces are removed but ultimately will guide you when it is appropriate to decrease to part-time or night time wear. We find that the best way to avoid losing your retainer during this period is to always have it either in your mouth or stored safely in your retainer case.