November 23rd, 2021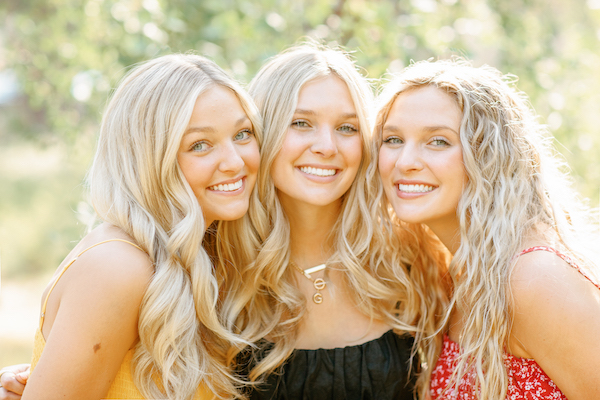 The holidays are quickly approaching, and unfortunately, your teeth are going to take the brunt of all the fun, food, and celebrations you are likely looking forward to experiencing with friends and family.
But don't fret! We are here to help your dental and orthodontic health during the holidays so that you can start the new year with a healthy mouth and a happy smile.
Whether you're a parent looking for tips with your kiddos or just hoping to take better care of your smile, here are our approved tips from Doctors Blair Struble and Erica Crosta for keeping your teeth healthy during the holidays.
Drink Heaps of Water
Along with those heaping portions of yummy food, treats, and beverages, don't forget to drink extra water throughout the day this holiday season. There are many benefits for teeth, including keeping your mouth rinsed and decreasing the amount of food or sugar sitting on your teeth for long periods. But in addition to the dental benefits, drinking water helps keep your skin and body hydrated and full, which has its own advantages, like staying fueled with H20 so that you're less likely to feel pressure to start the new year with a whole new diet, plus keeping your skin clear and blemish-free. It's a holiday present on so many levels!
Eat Teeth-Cleaning Foods
As tempting as it is to sit around the chip-and-dip bowl all night, or eat all those Christmas cookies at the party, remember to also include the veggie tray on your plate as you circulate and have fun. Foods like carrots, celery, broccoli, and apples all help clean your teeth as you eat them so that you can minimize some of the damage the other treats will have.
Note: If you wear braces, make sure to eat these foods only if they are cut into small pieces. The health of your braces is also a consideration here!
And, don't forget to include a few slices of cheese! While cheese doesn't clean your teeth, it can help coat and protect them from other food-related-harms. Did you know that?! So pick the cheese and veggies over the dip this year. Your teeth will thank you!
Use the Proper Tools
It can be tempting to open that bag of candy or pull that tag off with your teeth. We urge you to please use the proper tools for opening or unwrapping all of that holiday goodness this year. Remember, teeth are not tools; they are there for eating, drinking, and flashing your lovely smile in oodles of photos you plan to take throughout your holiday season.
Keep Away from Sticky Treats
Especially if you have braces, make sure to stay away from sticky holiday treats. They are terrible for your teeth and can ruin your braces, which leads to a not-so-fun present during the season of festivities. Foods to avoid:
Candy canes
Taffy
Peanut brittle
Sticky brownies
Crunchy cookies
Popcorn
Keep Up Your Teeth Routine
Traveling to see family and friends or just staying busy during the holiday season inevitably takes a toll on your oral hygiene. While it may slide by the wayside on a few occasions, try your best to keep up with your daily oral care routine while traveling, hosting, or during any of the other fun activities you have planned.
An excellent way to keep up with your daily routine is to make sure you carry a dental travel kit with you in the car or your day bag. You can include your travel toothbrush, floss, toothpaste, and mouthwash. The good news is that in addition to keeping your teeth healthy, your smile will shine brighter if you know your teeth look their best. Hooray!
Schedule Your Post-Holiday Check-Up
Orthodontic tips aside, you are likely to see some toll on your teeth after the new year. The best way to ensure your teeth are well maintained is to keep your routine dental and orthodontic visits up to date. Make sure to check your calendar to be sure you have that post-holiday visit on the books!
You can contact our office and get your next appointment on the books now.
Enjoy the Season!
Most of all, savor the moments and use these tips as a bonus to your festivities. We look forward to seeing you in the new year and hope you have a wonderful, fun, and safe holiday season.