March 30th, 2020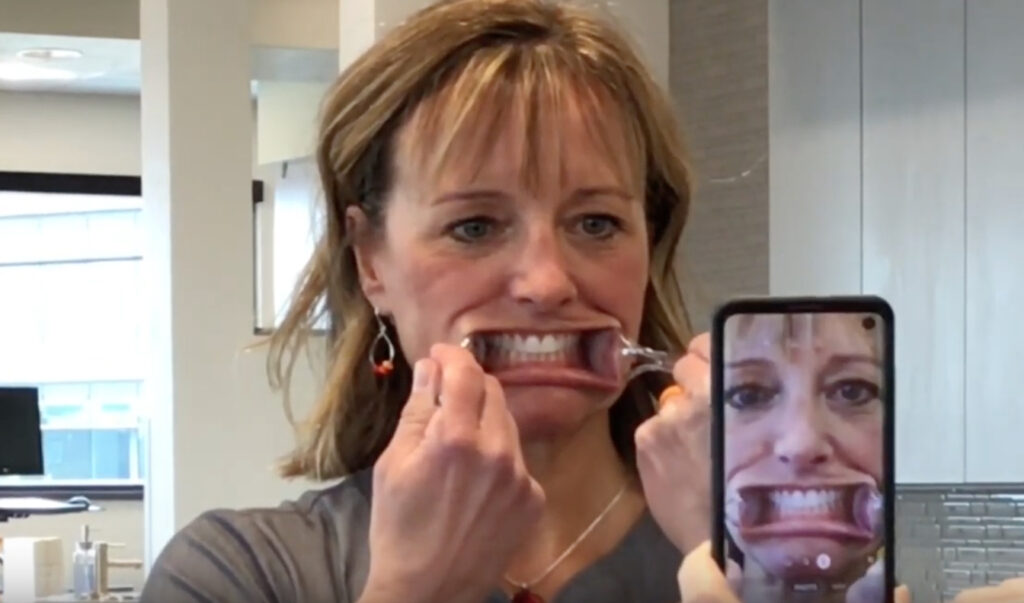 At Struble Ortho, technology solutions that help us stay connected to you make us smile! While we can't wait to see you in the office again, we are making do with the social distancing situation until then. You know that new and existing patients would normally get our full attention in person. But since we have reduced our in-office hours to be available for orthodontic emergencies only per Governor Brown's requirements, we have to get a little creative.
You might have questions like—what about that new patient exam I had scheduled with Struble Ortho? I still want to see about getting braces. Or maybe I have braces, and I had a growth and development status appointment that was canceled. I need Dr. Struble and Dr. Crosta to walk me through the rest of my treatment plan!
We have some great news for you. Struble Orthodontics is now doing virtual appointments for all existing patients with appointments and those interested in getting a new patient consultation. For either option, send photos of your teeth to info@strubleortho.com with your full name and date of birth in the subject line. Emails will only be accessed by Struble staff for assessment and scheduling a direct video conferencing call via Zoom with Dr. Struble or Dr. Crosta. We hope to minimize any and all disruptions to our services from COVID-19. Again we thank you for sticking with us through this crazy time. We are working hard to keep both you and our staff safe and healthy.
Here's how to take photos of your mouth ahead of your virtual appointment.
Follow along as Julie demonstrates how to take professional shots of your smile and bite at home.
Things you need to get started:
Chapstick. We want your lips to feel comfortable!
Two clean kitchen spoons (metal or plastic) but not too big!
A family member or friend to play photographer.
A phone that captures high-quality images.
Angles are important. Try to hold the camera as steady as possible so the photo doesn't blur. Most phones now will have a built-in auto-stabilizer for crisp images.
Repose photo (Angle: direct, head-on)
Your natural face at rest. Look directly ahead into the camera at the front. Teeth and lips resting naturally together. Not smiling. (Think the last time you took a passport photo).
Full smile photo (Angle: direct, head-on)
This one is pretty straight-forward. Look directly at the camera and smile big! (Think first day of school photos :)
Right side profile (Angle: Right side of face/jawline is visible)
Chin is level and hair is tucked behind your ear for a clear sightline of your jaw. Don't worry about smiling. Return to a natural resting face you had in the first photo. (Again, think about taking a passport photo).
Frontal bite with spoon retractors (Angle: direct, head-on)
Insert spoons on either side of your bite with the spoon's ladle turned inward to cup the inside wall of your cheek. Gently pull the spoons apart in opposite directions so that the camera can see your bite clearly. Snap away!
Left and right side bites with spoon retractors (Angle: One shot of your left side bite, one of your right side bite)
Same instructions as the previous step, but this time get one focused shot on the right and left sides of your bite. Make sure all teeth are visible on each side in the shot as best you can.
Upper arch photo (Angle: Camera should be slightly lower than the subject but angled upward so that you can see the roof of the subject's mouth).
Turn the ladle side of the spoons upward to cup the inside wall of your upper lip on each side. Gently lift your top lip toward the tip of your nose. Snap a photo of the upper arch. This is not the angle you'd normally choose for a selfie but none of your Instagram followers have to see this one!
Lower arch photo (Angle: Camera should be slightly higher than subject but angled slightly downward to reveal the bottom arch of lower teeth.)
Tip your chin downward. Turn the ladle side of the spoons downward to cup the inside wall of your bottom lip on each side and gently pull your bottom lip toward your chin.
Congrats, you're done!
Optional photo: Take a photo of any problem areas you are experiencing with bite or discomfort. Zoom in a bit so we can see what's going on.
How to send your photos
Again, you can send these photos to info@strubleortho.com with your full name and date of birth in the subject line and wait for a response from a staff member for a time and date for your virtual appointment with our team. While you're waiting, take a peek at our Before and After photos from actual Struble patients. If you get stuck or just have questions, please call our office on weekdays until noon at 541-848-6642 or shoot us an email and we are happy to walk you through each step. Take care and see you (virtually) soon!