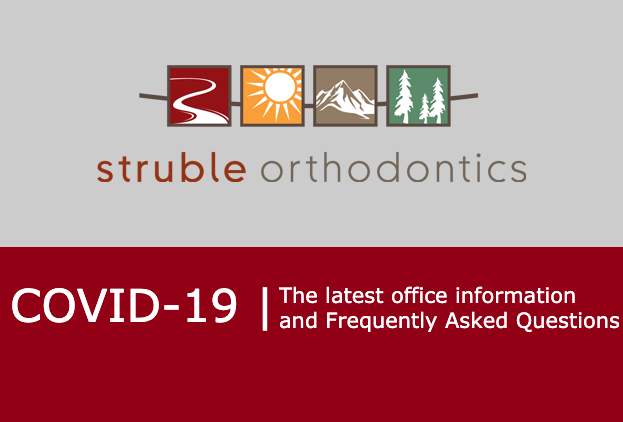 Updated 3/24/20 @ 5:08pm
Dear Patients and Families of Struble Orthodontics,
As of 3/16/2020, the American Dental Association has issued a closure of non-essential health facilities. As of 3/23/20 Governor Brown has mandated dental and orthodontic clinics close to non-essential patients until June 15th, 2020. In keeping with the ADA and State of Oregon requirements, we will be rescheduling all appointments in May with an estimated return date of June 15th, 2020.

Please see our Frequently Asked Questions for treatment and care during the COVID-19 closure.

We take the safety of our patients, patients' families, our staff, and our families very seriously. In order to do our part in being good stewards of our community and to practice current social distancing recommendations of the C.D.C., I have decided that it is prudent to close my office to all non-emergency orthodontic appointments until June 15th, 2020. I will re-evaluate this position continually based upon new data as it comes out.  I fully understand the inconvenience this places on our patients and their families and how disappointing it will be for those scheduled to get their braces off. However, certain orthodontic procedures (such as removing braces) can produce aerosols that contain biologic materials, including viruses.
By postponing all non-emergency orthodontic appointments until April 15th, 2020, we will all be doing our part in helping to "flatten the curve" that will hopefully save the lives of many of our loved ones who are most susceptible. This also frees up medical supplies, such as gloves and masks, to healthcare workers that could be overwhelmed with patients as well as providing time for back-ordered healthcare items to be replenished. "Flattening the curve" gives our hospitals and healthcare workers the chance to be able to treat enough patients with ventilators to get them healthy rather than making doctors decide who gets to live and die.
This is uncharted territory for everyone with more information coming out all of the time.  We will continue to stay in contact with all of our patients to provide further updates. This is our opportunity to do our part as a society, help each other, and protect the most vulnerable.
I realize there will be those that think this is an over-reaction, and I sincerely hope I am over-reacting. However, I feel deeply that it is better to take action now with the hope of a better outcome for everyone in our community.
During the next two weeks, my team and I will still be there for you 100%. We will make ourselves available to all of our patients who have something painful like a pokey wire that cannot be handled over the phone with verbal instructions. Please call our office at: 541-848-6642 or email at info@strubleortho.com should you need assistance.
I am hopeful that Gov. Brown, the OR Department of Public Health, and the CDC will also give us more guidance on how to move forward while ensuring safety for all.
I understand that many will have questions regarding their ongoing orthodontic care, and I have included a Q&A document that will address many of these questions.

Please take good care of each other and let's hope for a speedy resolution to this situation.
Sincerely,
Dr Struble and Team
---
Frequently Asked Questions
Questions about my orthodontic care during the COVID 19 office closure
How long will your office be closed?
Like many facets of this outbreak, there are many unknowns. We plan on closing to non-emergency orthodontic procedures until June 15th, 2020. We are hopeful that the community actions being taken now will help slow the spread and shorten the life cycle of the pandemic so we can resume business as usual ASAP.
Why does the orthodontic office need to close?
The recommendations made by public health officials regarding "social distancing" apply to a dental office where many people are coming and going, and close contact is a necessary part of all dental care. We want to be socially responsible as a business and a good steward of our community.
Will my orthodontic care be affected negatively?
It depends on the length of the community health situation. A short interruption (weeks to a few months) in orthodontic adjustment appointments will not impact your overall progress. Should this event and office closure last significantly longer, there may be an overall effect on your progress. We will do our best to advance and "catch up" your treatment when the situation settles, should it be necessary.
How should I proceed if I am wearing braces or an appliance?
The good news is that your care in general advances even when we don't see you in the office; in fact, this is how it works- your teeth get straight all day and night with braces. Continue to wear your elastics as directed. Brush and floss your teeth thoroughly 3 times a day. We will be putting together a remote monitoring system soon so we can check on your progress via email or messenger application.
How should I proceed if I am wearing clear aligners, Invisalign, or Spark aligners?
It is very important NOT to just stop wearing your active aligners! We do not want to lose the progress you have made. Like with braces above, we will be doing some remote monitoring checks via e-mail or messenger app allowing us to assess your progress. If you are at your last aligner of an order, please continue wearing it. If you have recently started or are in the middle of an order, please continue advancing at the rate of change we have given you. Practice taking "selfies" of your teeth, as we will be using those to assess your progress. When additional aligners are needed, we will manufacture those for you, and you will be able to stop by the office and pick them up.
What should I do if I am scheduled to start treatment soon?
We are excited about all our patients to take this big step and look forward to seeing your new smile when it is finished. We are hopeful that this schedule alteration will be short, and we will reschedule your appointment to start treatment.
What about getting my braces off?
Although dental care is very safe for patients and providers overall with universal precautions and hospital-level sterilization protocols, cleaning teeth and the removal of orthodontic bonding material produces aerosols that can possibly contain biological material. A deferral of removing braces is a good practice at a time like this. Always brush and floss thoroughly to maintain your dental health as we await the passing of this situation.
I have a routine monitoring appointment upcoming (retainer check, dental growth monitoring, recall examination, or new patient consultation)
These appointments are very important but by their nature become elective at a time like this. We will maintain all appointment records within our computer system, and will reschedule them appropriately when the community situation returns to normal.
We are told to wash our hands frequently; how should we handle wearing aligners, retainers, elastics, etc?
It is important to continue wearing your aligners, and your rubber bands to maintain your treatment progress, or your treatment the result if currently wearing retainers. Follow recommendations by washing your hands thoroughly with soap and water before and after removing or placing your aligners, retainers, or elastics. These items can also be washed or cleaned in a dilute soap and water solution (1 teaspoon dish soap in a gallon of water). An old toothbrush is ideal for this purpose. After cleaning the appliance, rinse thoroughly in cold water to minimize the soapy taste.
I lost or broke my retainer or aligner; what should I do?
It is always important to wear retainers after your treatment is complete. Call the office; often we can make a replacement from your digital model and you can pick up at the office.
Will patients be allowed in the office at all? Is there anyone there?
Yes, we will staff the office with a small number of team members Monday through Thursday. Our phones will be answered. However, we will LIMIT ACCESS TO THE OFFICE TO ONE PERSON AT A TIME. PLEASE CALL US IF YOU FEEL THE NEED TO COME TO THE OFFICE. WE ARE GLAD TO HEAR FROM YOU AND WE WILL PROVIDE SPECIFIC INSTRUCTIONS ON WHAT YOU SHOULD DO.
I have a poking wire or other irritation that is bothering me; what do I do?
Call us! We will instruct you on the best resolution to the problem. This could include an easy fix at home or could involve a quick VIP trip to the office for a fix in a private setting where you would be the only patient in the office. Please call to let us know if you require any elastics or other necessary supplies during this time. We can make arrangements to get these to you without requiring entry to the building.
Can I enter the office with my child?
Of course! We would, however, ask for everyone's help in minimizing the number of people in the office. Depending on your child's age and your wishes, some parents may feel comfortable staying in the car or corridor while their child is treated. For others, especially younger children, we fully expect parents to be present with them. Only one parent should come and no siblings should come along. This is what is best for everyone.