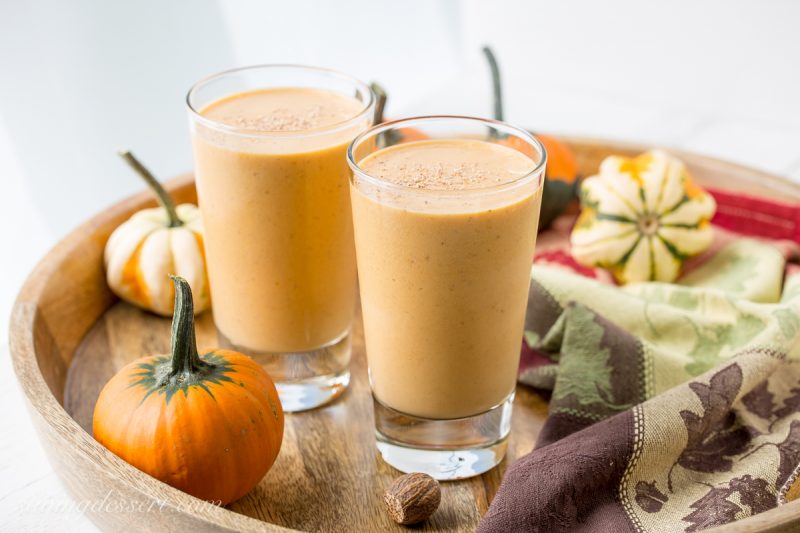 'Tis the season for festive meals with family and friends--and the delicious food that comes with it! But for some of our orthodontic patients, figuring out what they can and can't eat this time of year can be a difficult task. Not to worry! The American Association of Orthodontists has put together a list of holiday recipes that are sure to keep both your teeth and your stomach happy.
"Orthodontists are often asked by patients of all ages about what's 'safe' to eat during their treatment," says Morris N. Poole, DDS, president of the AAO. "We are pleased to offer these 'orthodontist approved' recipes for everyone to enjoy."
Read on for recipes for the Pumpkin Pie Smoothie, Asparagus and Prosciutto Puff Pastry Christmas Wreath, and Chanukah Gelt Wontons.
Pumpkin Pie Smoothie
8 8-ounce servings
1-15 ounce can of pure pumpkin
¾ cup whole milk
¼ cup half and half
1 cup vanilla yogurt
¼ cup of brown sugar, or more if you like it sweeter
½ teaspoon of pumpkin pie spice
1 cup ice
Whipped cream and crumbled graham crackers for topping
Combine pumpkin, milk, half and half, yogurt, brown sugar, and pumpkin pie spice in blender. Blend until mixture is smooth. Add ice and blend again.
Pour into glasses and top with whipped cream and crumbled graham crackers.
Asparagus and Prosciutto Puff Pastry Christmas Wreath
12-24 servings
1 box of puff pastry dough, thawed
12 medium thick stalks of asparagus, woody part of the stems removed
12 thin slices prosciutto
1 egg mixed with 1 tablespoon of water to make an egg wash
Red bell pepper for garnish
Preheat oven to 400 F. Line two baking sheets with parchment paper and set aside.
Unfold the puff pastry sheets and cut each one into 12 squares.
Wrap each asparagus stalk with a slice of prosciutto and cut in half crosswise.
Place each prosciutto wrapped asparagus piece on top of a puff pastry square, diagonally, and roll up.
Place 12 on each baking sheet and brush with egg wash.
Bake for 15 minutes or until the pastry is puffed and golden.
On a round serving platter, place the puffs in a wreath shape and serve while warm. Cut red bell pepper into pieces to make a bow and use as garnish if desired.
Chanukah Gelt Wontons
Makes 12
24 round wonton wrappers
12 large chocolate coins (1 ½")
2 tablespoons butter
2 tablespoons canola oil
¼ cup cinnamon sugar
Lay out 12 of the wonton wrappers on a clean work surface.
Unwrap the chocolate coins and place one in the center of each wonton wrapper.
Lightly brush the edges of each wonton wrapper with water and place another wonton wrapper on top, pressing the edges to seal in the chocolate coin.
Place butter and canola oil into a large frying pan and melt on medium heat.
Fry each wonton for 2-3 minutes per side.
Place the cinnamon sugar in a shallow bowl and dip both side of the wonton until coated.
Let cool slightly and serve warm or at room temperature.
---
We wish you a happy holidays from everyone at Struble Orthodontics! If you have questions or need recommendations about what to eat over the holidays with braces, feel free to contact us.