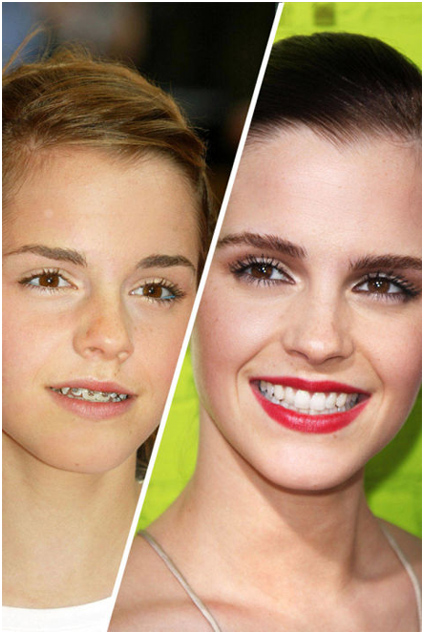 Most Hollywood stars rock a million dollar smile to be envious of. But the truth is, many of them didn't start that way. In fact, a few had to go through braces treatment, just like you! Here are just a few.
Emma Watson
Watson said she went through a rather awkward stage that included "terrible skin," fluctuating weight, and braces. Look where she is now!
Faith Hill
Hill wore an unlikely accessory on the red carpet for the Grammy Awards: her braces. She'd had them for about 4 months at the time. "I'm getting used to them," she said, "I had braces as a kid and I forgot to wear my retainer. Kids, wear your retainer!"
Tom Cruise
Surprisingly enough, one of the world's most famous smiles needed some orthodontic help at one point. He wore "invisible" braces that had ceramic brackets for a few months just after his 40th birthday. Barely anyone knew!
Dakota Fanning
Like Watson, Fanning went through some troublesome teeth years as a teenager. Braces and dental work gave her that stunning smile we see now. She even proudly sported her headgear during an appearance on The Tonight Show.
Gwyneth Paltrow
Who would have thought that the 2013 Most Beautiful Woman named by People Magazine wore braces in high school!
Niall Horan
For all you One Direction fans, Horan wore braces for several months. He got them removed in April 2013.
Gwen Stefani
In 1999, the No Doubt singer started wearing metal in her mouth but claimed it was just a style choice. She had always wanted them as a child, but, she admitted, "I could afford them at that point, and that's when I went and got them."
Faye Dunaway
This Academy Award winning actress who got her braces at the age of 61! "You just sort of let your teeth go for a while. But it's time to have something done," she said.
Ryan Seacrest, Prince Harry, Miley Cyrus, Katy Perry, Justin Bieber, and Drew Barrymore also belonged to the metal mouth club at one time or another. But the truth is that in the end, whether your braces are metal or invisible, whether you're young or old, and whether you wear them in the classroom or on the red carpet, it all comes down to how you work it! Schedule your appointment with us today to get the rock star smile you've always dreamed of.