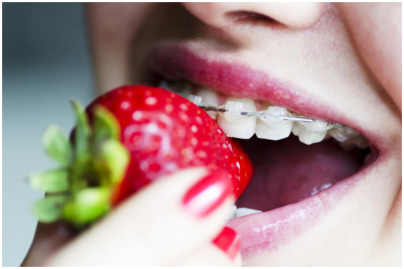 We know that the transition to eating braces-friendly foods can be difficult; you can only eat so many mashed potatoes and bowls of apple sauce, right? Last May we wrote a post on breakfast ideas. We wanted to follow up with some healthy snack ideas for those of you who might be looking for more inspiration!
Remember, it's always a good idea to chew carefully, use bite-sized pieces, and brush after you eat. Braces work by applying a constant controlled force on your teeth in order to properly move them. If at any time this force is disrupted, it can delay your orthodontic treatment time—mainly by broken brackets and wires. This most frequently happens when you eat hard, sticky, or crunchy foods. So in order to keep your orthodontic treatment on track, it's important to stick to braces-friendly foods.
1. Thinly sliced apples, dipped in peanut butter, yogurt, or creamy chocolate sauce
2. Cheese and crackers
3. Cereal mix: Pack a Ziploc bag full for a great school-time or on-the-go snack. Mix your favorite low-sugar cereal with Goldfish crackers or Cheez-its and other braces-safe bites like mini marshmallows, raisins or dried cranberries
4. Peanut Butter Tacos: Peanut butter & low-sugar jelly or honey on a soft tortilla shell, rolled up for easy eating on the go
5. String cheese
6. Hummus & soft pita bread sections, or soft raw veggies, like zucchini or red pepper strips that are easy to bite and chew
7. Soft fruit: strawberries, kiwi, bananas, orange or tangerine sections
8. Sugar-free yogurt smoothies
9. Soft granola bars
10. Pizza wheels: Pizza sauce on an English muffin, topped with shredded mozzarella
11. Roasted edamame with sea salt
12. Kale chips
There's even a cookbook devoted to brace-friendly recipes: The Braces Cookbook by Pamela Waterman, available on Amazon. It's a great resource for snack recipes, as well as healthy meals for brace-wearing individuals who want to avoid orthodontic issues.
With a little creativity, planning, and the willingness to make some adjustments in your diet, it's easy (and tasty) to eat well while being a safety-conscious orthodontic patient.
Got more questions about foods that are safe to eat? Give us call at 541-848-6642. And if you come up with any good recipes of your own, please comment and let us know!