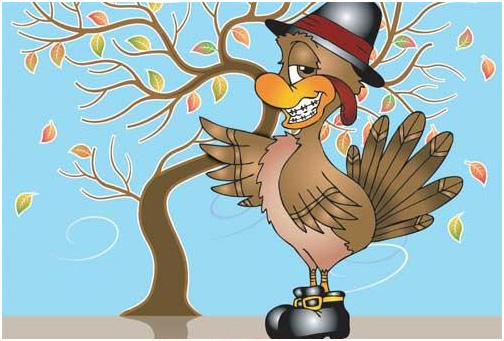 First off, we'd like to wish everyone a happy Thanksgiving! We are so thankful for our family, friends, coworkers, and patients--and the delicious food we're about to consume. And you can be thankful that you don't have to hold back this year because of your braces! Most Thanksgiving staples are ok to eat, but there are a few that you should avoid.
Braces-friendly foods:
Turkey and Ham – you can actually eat the mainstay foods of the holiday! Just cut the meat into smaller, more manageable pieces and avoid eating it off the bone.
Corn – as long as it is not on the cob
Potatoes – sweet potatoes and mashed potatoes are fine as long as they're soft
Dressing – as long as there's nothing crunchy in it
Green beans – when they're cooked nice and soft
Casserole – as long as it's not crunchy
Desserts – make sure it's not crunchy and that you brush your teeth really well afterwards
Foods to avoid:
Popcorn – biting into a hard kernel can damage your braces
Chips – another Thanksgiving snack you should avoid
Nuts – almonds, cashews, and the like should be avoided for the same reasons as popcorn
Caramel – this will stick to your braces
Basically any hard, crunchy or sticky foods
We hope this will help you get through the holiday without any orthodontic emergencies, while still enjoying the food you look forward to eating all year! If you have any questions, don't hesitate to give us a call at (541) 848-6642. Have a wonderful Thanksgiving!