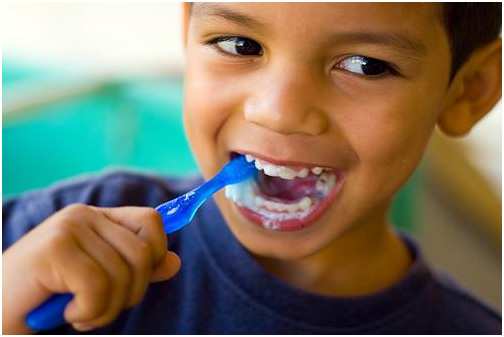 Take a look in the mirror at your new braces. The brackets and wires have nooks and crannies that can trap food and plaque. This means your risk of tooth decay and gum problems may be higher while you are wearing braces. Putting some extra attention into your teeth and gums will prevent tooth decay and staining, so you'll have the smile you always dreamed of once your braces are off.
Use an interdental toothbrush
A regular toothbrush just doesn't cut it when you are wearing braces. Using an interdental toothbrush will allow you to effectively clean behind your braces. This type of brush has bristles that are shaped like a Christmas tree that can get in there and remove food residue in the braces and on the teeth. We also recommend using a WaterPik, which uses highly pressurized pulsating water to help get all of those hard-to-reach places.
Improve your brushing technique
1) Gently brush along the gum line where the gums and teeth meet, using a small circular motion on each tooth.
2) Spend about 10 seconds on each tooth before moving onto the next tooth, brushing in a set pattern so that you don't miss any teeth.
3) Gently brush the braces. Press your toothbrush firmly enough so that the bristles spread into the gaps between the wire and the tooth. Brush in and around all of the brackets and wires.
Brush (and floss!) after every meal
Braces block food from naturally escaping your teeth after eating, so it's important that you take the time to brush and floss after every meal. The less time food has to sit on your teeth, the less likely it is to cause decay. This may seem like an inconvenience, but trust us, when you get your braces off it will all be worth it.
Don't forget the mouth rinse
Even after properly brushing and flossing, there are probably some food particles in your braces. A fluoride mouth rinse is the best way to ensure that every bit of food is removed after meals. If you don't have mouth rinse available, just use water--it's better than nothing!
Eat right
Prevention is definitely the best medicine when it comes to avoiding tooth decay. If you can nix decay-causing sugary foods from the outset, you'll spend less time trying to treat problems in the future. Acidic foods and drinks can also damage tooth enamel when consumed frequently or when sipped over extended periods of time. Soda is especially hard on teeth because it not only contains acidic flavor additives, but it also includes 10–12 teaspoons of sugar, which further increases your chance of developing cavities.
Get Regular Checkups
Visit your dentist regularly while you are wearing braces--typically every 3-6 months--to ensure that little problems don't turn into big ones.
Your braces are working hard to straighten your teeth, but they do make it a little more difficult to keep your mouth clean. Making these simple alterations to your daily routine can ensure that you get the best results possible. Give us a call with any questions or concerns you may have: (541) 848-6642.