Key points:
Beyond just having straight teeth, braces can give you both oral and cosmetic health benefits
Straight teeth contribute to a nicer smile, which helps boost self-esteem and a more positive self-image which can greatly affect an individual's quality of life socially and professionally.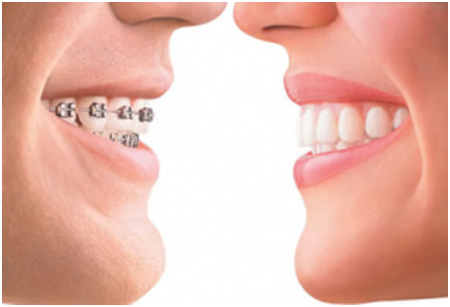 Having straight teeth may be an obvious goal in orthodontics, but health factors such as the ability to properly clean and maintain teeth and gums should also play an important role in your decision to receive orthodontic treatment. Preventing future oral health problems now means your child won't have to spend time and money correcting these issues later. Read on for the lesser-known benefits of braces besides having straight teeth!
Tooth Decay and Gum Disease
Crooked or crowded teeth may overlap each other and create tight spaces in between. This can make it difficult to brush and floss effectively, allowing bacteria and plaque to build up, and eventually leading to tooth decay and gum disease. It can also place you at a higher risk for developing periodontal disease during your lifetime, which has been linked to an increased risk of heart disease, stroke, high cholesterol, COPD, low birth weight/pre-term babies.
→ With orthodontic treatment, your teeth will become properly aligned and spaced, which allows for more effective brushing and decreased risk of disease.
Difficulties with Speech
Your teeth play an essential role in speech. When they are out of line or lean too far forward or backward, this can affect your speaking patterns, and possibly cause embarrassment and frustration.
→ Braces can readjust the positioning of the teeth allowing for clearer speech and giving a major confidence-booster!
Bone Erosion
Bone and gum tissues begin to erode when there are no teeth to support. This is also true for poorly aligned teeth that leave gaps and spaces or place too much pressure on the jawbone due to a bad bite. TMJ (Temporomandibular Joint) disorders can occur from stress on the jaw joint when a person's bite is off. More serious TMJ symptoms can include earaches, headaches, jaw pain, clicking or popping in the jaw joint, neck and shoulder pain and difficulty in biting or chewing.
→ With braces, the bones and tissues are less likely to erode and can continue to support the teeth in their new alignment. Additionally, when one's bite is properly aligned, unnecessary wear or grinding of the teeth is prevented.
Digestion
Your teeth play an important role in digestion. Before food ever enters your stomach, it has been partially digested by the teeth. Digestion is one of the most vital roles your body performs and poor digestive health carries many health risks. If teeth are severely out of line, however, they may not play their role in breaking down food as effectively as they should.
→ With braces, your teeth will be straightened into optimal alignment for eating and chewing. For your body's sake, health starts at the mouth.
Increased Confidence
Correcting overbite, underbite, or overcrowding can help build confidence. Reducing pain and discomfort associated with these conditions can help you get a better night's sleep, eat healthier foods (hopefully), and feel less stressed during the day.
→ Not only will you have a great smile, you will want to smile more often!
Want to learn more about what Dr. Struble and the team can do for your smile? Schedule a complimentary consultation!