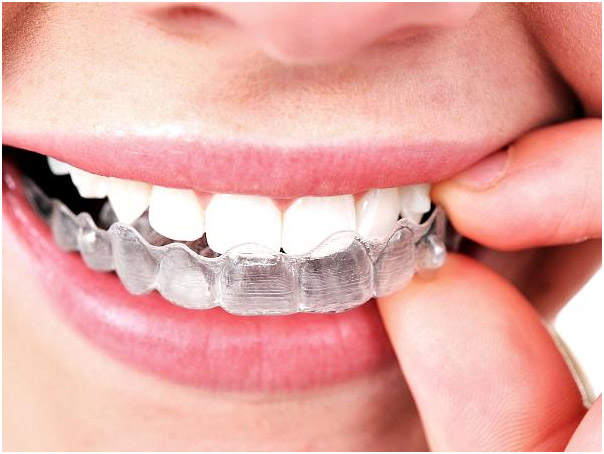 We want you to love your braces. But we understand why you might prefer the less visible version over the metal wires and brackets. Some of our patients are past their teenage years and want an orthodontic solution that still conveys a professional image. That's why we are certified to treat with Invisalign. It's the "invisible" kind of braces that people can barely see, that still effectively straighten your teeth!
How it works
Invisalign uses a series of invisible, comfortable, removable aligners that no one can tell you are wearing. It's made with 3D computer imaging technology that is proven effective. You wear a set of aligners for about two weeks, removing them only to eat, drink, and floss. As you replace each aligner with the next in the series, your teeth will move little by little until they have reached the final position your doctor has prescribed. You'll visit Dr. Struble about once every six weeks to make sure the transition is going smoothly. Treatments typically last around nine to 15 months, and the number of aligners worn during treatment can range from 18 to 30, depending on your specific case. Take a look at our website to learn more about Invisalign!
Benefits of Invisalign
The aligners are removable which allows you to eat and drink whatever you want during treatment, so you don't have to throw away the popcorn and Starbursts. Care, brushing, and flossing are also a lot easier to navigate. No metal and wires also means you spend less time in the doctor's office getting adjustments. Invisalign also allows you to view your own virtual treatment plan when you start so you can view your progress as you complete treatment.
Is Invisalign right for you?
Sound too good to be true? Here are a few things to consider. Depending on your insurance plan, Invisalign can be expensive, so you'll need to decide if the benefits outweigh the costs or not. And although the aligners are removable, you'll still need to ensure you're wearing them for as close to 24 hours in the day as possible, or else your treatment may not be as effective. The aligners can be painful the first couple of days like metal braces, but they avoid the mouth abrasions caused by traditional appliances.
Schedule a free consultation with no strings attached to see if Invisalign is right for you! We know that whichever treatment you choose, we'll have you loving your new beautiful straight smile in no time.