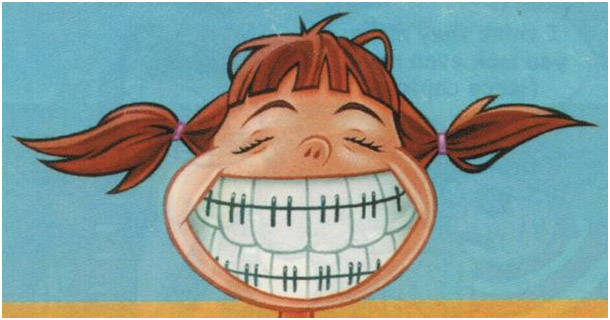 Our patients ask us this question all the time. And as excited as we are about braces, we understand that you are just itching to see your beautiful smile underneath! The average wear time for braces is 1-3 years, but varies significantly depending on each wearer. In more difficult cases, it can take almost 6 years for braces to be removed. Although we can't magically speed up the process, we can give you insight into the science behind the treatment and factors that help decrease your time in braces.
It's not just about straight teeth!
You look in the mirror after a few months of wearing braces and your teeth are looking pretty straight. So that means you're done, right? But orthodontics isn't just about straight teeth. The ultimate goal of good orthodontic treatment is a healthy bite that lasts a lifetime and a beautiful smile to go with it.
Most patients will see major changes in their appearance in the first six months of treatment. This is because the first objective after the initial placement of the braces is to uncrowd the teeth or close spaces, depending on the problem. After that, the changes aren't as noticeable as they are primarily bite-related.
Although your teeth might look straight, it is important that the upper and lower jaws fit together correctly, too. Think of your bite as a gear: if you align and straighten the teeth and jaws early on, you can prevent premature wear and tear of your bite in the future. Like our Facebook page for more lifestyle tips like these!
Factors that affect orthodontic treatment time:
Many factors affect how long it will take before we can remove your braces and reveal those pearly whites. Some are out of our control, like the severity of the bite problem requiring attention. We also consider our patient's age, the distance and location of wayward teeth, and the growth and tissue's response to treatment.
Some factors are in the hands of Dr. Struble and her team, or the patients themselves. We are experts in the treatment plan and the use of proper orthodontic technique. On your part, showing up on time for appointments and taking care of your appliances is crucial. So if you really want your braces gone, hold off on the Starbursts, peanuts, and corn on the cob!
The state and health of the teeth and gums are also important, so make sure you've been brushing and flossing thoroughly. Also, proper use of retainers after races prevents your teeth from heading back to where they came from. That means if you have to take your retainer out before your first kiss, then so be it. Just make sure you put it back in!
Schedule a complimentary consultation, and we can get you on your way to a healthy, beautiful smile in no time (or 1-3 years, to be more exact).
1 Response to When do I get my braces off?