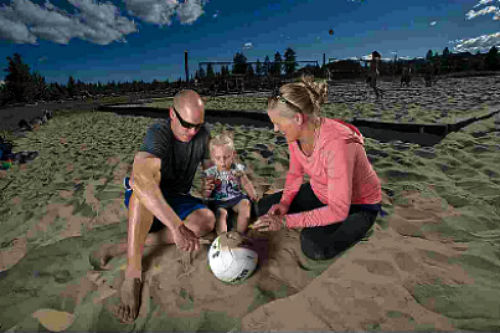 She puts wires on your teeth, gives you wax and rubber bands, and tells you not to eat your favorite hard candies for the next few months. But there is a lot you may not know about the Dr. Struble you see during your routine braces checkup. Here are 5 more reasons to love the woman behind the beautiful smiles and our practice!
1. Dr. Struble's family moved to Bend from North Dakota when she was 4, which means she has called Bend home for more than 20 years. Now that's a true local!
2. Not only is she a healthcare practitioner, but she is also a business owner, volleyball coach, and parent, which makes for one hectic but fulfilling schedule.
3. She played volleyball for Mountain View High School and Willamette University, where she earned her place in the starting lineup as a freshman in 1998. She now coaches volleyball at Summit High School to give something back for all that she has gained from her own high school sports experience. Her 2-year-old daughter Taylor comes to many of their practices and is their biggest fan!
4. Dr. Struble is active! She grew up windsurfing, biking, hiking and taking mountain excursions with her dad each year. Volleyball is still her favorite pastime, but she also enjoys being active with her daughter in tow, whether jogging with a stroller or skate skiing with a chariot. Talk about a workout!
5. Being an orthodontist is hard work and it also takes a toll physically. That's why Dr. Struble makes a point of squeezing exercise into her busy schedule. She keeps her cardio and fitness up to maintain good muscle posture for her job and to ensure she can continue doing what she loves most as an orthodontist!
Leave a comment on our Facebook page and tell us what you love most about Dr. Struble!